Make life meaningful
Galeria Residences – Exclusive Villas by Tridentia:- Yes, the house you live in matters the most. Whatever your job, the home you return to each day defines your state of living. Coming home to a place of security, warmth and love is one of life's little joys, and with Galeria Residences in Curtorim, we're making sure you revel in all of this with a home that's your pride and happiness.
Indulge in a home that treats you right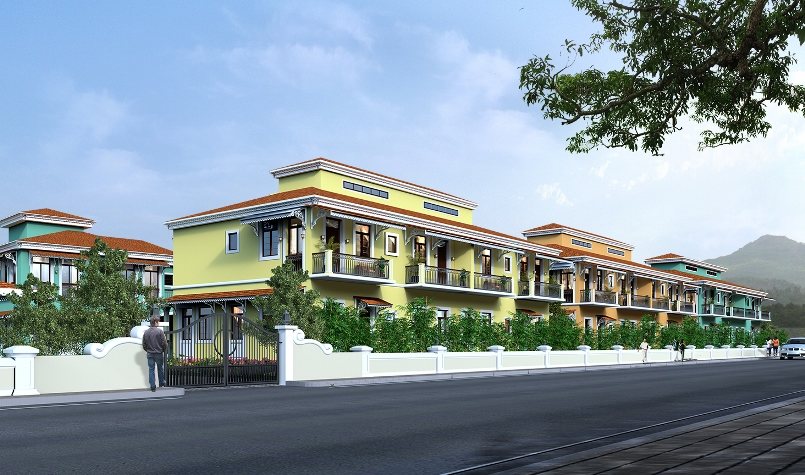 We're taking a step back into the past to reflect and honour the basic tenets of the great architectural minds of the 15th and 16th centuries. They created an architectural ode unique to Goa, with distinct colour palettes, functional yet graceful lines and thoughtful spaces. With Galeria Residences, we offer beautiful Goan Portuguese-style villas that are sure to take your breath away.
For safety, we have enclosed the project by a wall to create a gated community. Security is also provided for added measure. Even though we are offering a look back to historical architectural styles at Galeria Residences, we at Tridentia are clued into your 21st century needs. Modern amenities are included in the complex, including sufficient parking for your vehicles, excellent lighting and well paved roads, as well as a plunge pool for every villa.
The spacious, well-designed villas at Galeria Residences will offer you the comfort and privacy of your own home, but within the complex, it will give you that sense of community and security. Galeria Residences is exactly what you've been looking for!
Paint
External: Superior Quality Water based Acrylic paint
Internal: Acrylic Emulsion Paint of Premium Brand
Kitchen
Stainless Steel sink with Drain Board
60cms Granite platform with 45cms dado tiles
Provision for Electronic Water Purification Systems
PWD Water connection with premium bath fittings
Sanitary Fixtures
Basins of Kohler make or equivalent
Wall mounted/Floor mounted WC's of Kohler make or equivalent
Miscellaneous
Flooring – Polished Vitrified Tiles 80 x 120 cms
Plumbing Lines – Kitec and UPVC
Telephone points outlets in all bedrooms and living area
Intercom facility with Video Door Phone point will be provided in each villa
Electrical
Concealed Copper Wiring of PVC insulation of premium brand
Modular Electrical switches of Schneider or equivalent
Two Way switches for fan and light in bedrooms
Power points provision for various kitchen appliances
Sufficient number of points for lighting and power
Provision for Geyser Points in bathrooms
Washing Machine, Dryer and Dishwasher points
Provision of AC's in all bedrooms and living room
T.V. & Telephone points in all bedrooms and living room
Hob and Chimney points
Doors & Windows
All Door frames to be of Teakwood
Main door and Bedrooms will have flush doors with both side veneer
Bathroom door will have flush doors with veneer & laminate
Window – Anodized Aluminium/ Wooden Openable Windows
Personalized lifts for big villas
Generator back up for common lights
Mechanical garbage disposal system
Solar heating system
Well paved driveways
24 hours security with CCTV cameras
Single entry to the project
Intercom with video door phone
DTH points in living room and all bedrooms
Aquifer recharge of ground water
Plunge pool for every villa
Designated parking porch for every villa
Professionally landscaped garden
Tranquility
Tridentia Galeria Residences villas are located in Curtorim, a quiet village in South Goa. The tranquil surroundings provide the perfect backdrop for your Portuguese-style home. Curtorim is beautiful throughout the year, and is particularly so in the monsoons and during harvest time when the fields are full of paddy – green and gold. The closest beaches with beautiful white sand are just a half hour drive away.
Typical Independent Villa 1, 2 & 3
Area : 335 Sq. Mts. | Porch : 14 Sq. Mts. | Terrace : 31 Sq. Mts.
Ground Floor Plan
First Floor Plan
Typical Twin Villa 4 & 5
Area : 171 Sq. Mts. | Terrace : 16 Sq. Mts.
Ground Floor Plan
First Floor Plan